Day 3 June 3, 2013
_____________________________________
Monday, June 3, 2013
Silver Gate

Snow flurries dust the cabin this morning. The air is chilly, but like so many gray, snowy days, not really cold. It rained last night and earlier this morning so it could be a wet day.
But it is not. Driving toward Lamar Valley, blue sky breaks through the clouds and the sun rises warming the day.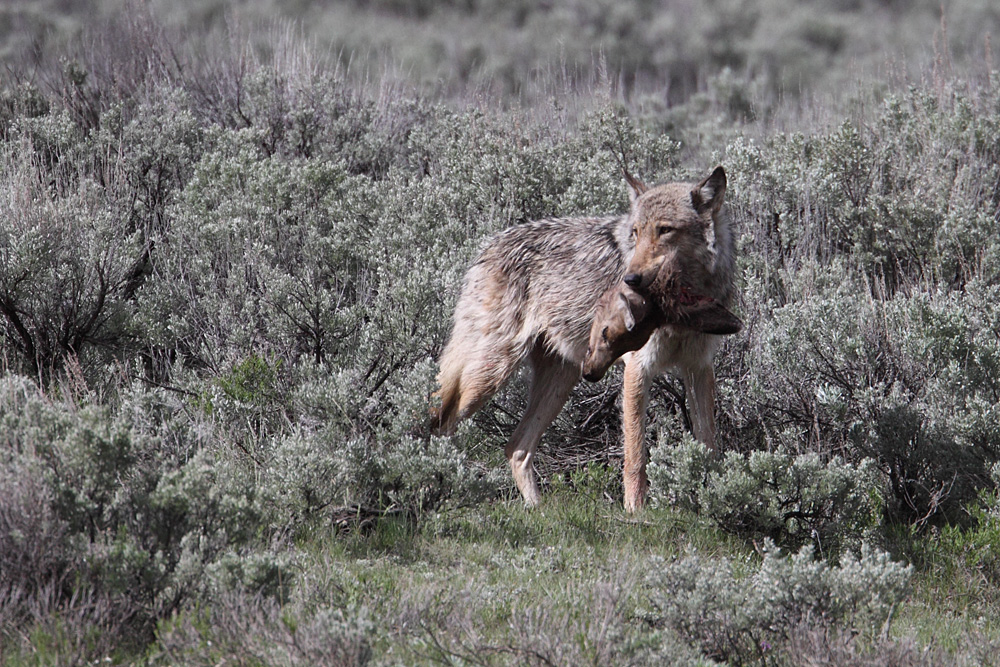 A deer grazes in the meadows at Warm Springs. A crowd of vehicles pack Hitching Post, scopes pointed in all directions - north toward the Druids' old den, out toward the rendezvous, across the river to Mt. Norris. A wolf has been seen; we hear mumbles of information and then go further west past the Confluence, finding a spot on one of the steep hills overlooking the river. "She" is in the sage on a ridge just above the Lamar River. Ravens flutter and perch on snags - a deer carcass is not far away. Then a gray wolf rises out of the sage and runs out toward the grass, chasing a coyote. Another coyote follows and is also chased away.
The gray wolf is "Middle Gray", one of the Lamar Canyon Pack. She disappears behind the sage and reappears in the grass munching on the carcass. She grabs a piece and zigzags west with her prize, the deer's head, through the sage to the water's edge. Middle Gray plows through the water, holding her nose high in the air. Reaching a sandbar, she stops and rests. I glance away one moment and magically she appears on the opposite shore, continuing her run west.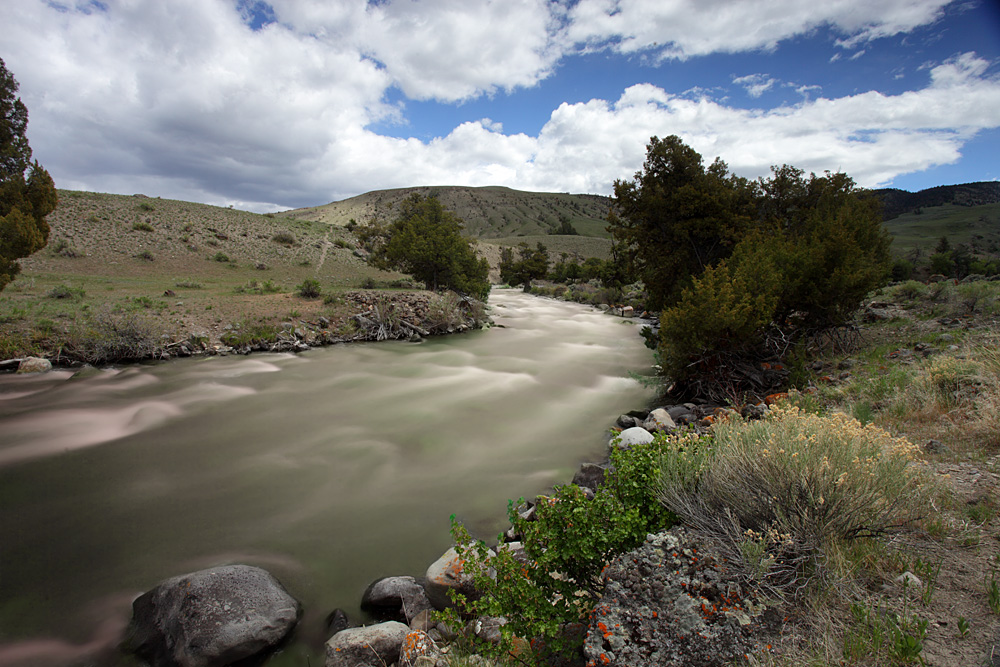 We lose her after that and head down the road to Fisherman's turnout where a large herd of bison with calves are crossing the Lamar River. They form a dark ribbon across the water, cows and their very young calves, bobbing down the river. The calves drift easily along, protected by the bodies of their mothers.
All is quiet at Slough Creek with only a few vehicles in the upper and lower turnouts. We can see a grizzly high above us on the slopes, climbing through the grass, thick legs, silvery back, high above the den sites of wolves of previous years. He is one of three bears who have fed on a carcass on the slopes. Those who wait are hoping the Junction Butte pack will show up, but the wolves have not discovered the carcass yet.
In Little America, a black bear with a shiny coat gallops across the grass as if someone is chasing him. Big horn sheep recline in the woods near Yellowstone Picnic area, while across the road pronghorns graze near the pond at the base of Junction Butte. All of Yellowstone is so much greener than I've seen it in a long time. Emerald grass against snow-capped mountains; streaks of glistening white drizzling down mountains like rivers.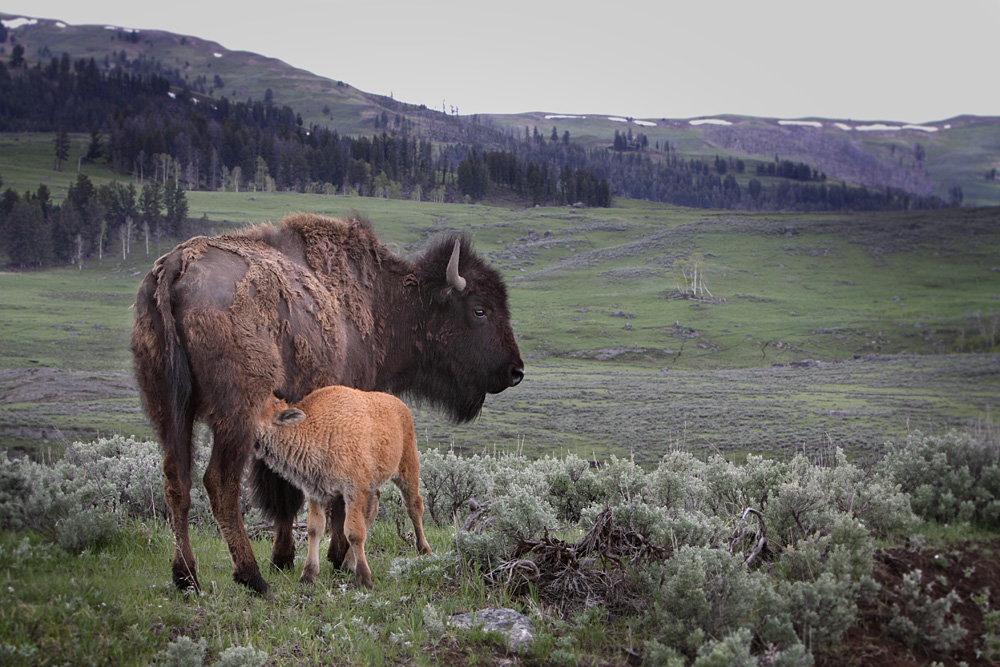 We drive and drive, stop and watch wildlife. Not many wolves to watch which helps us pay more attention to the birds and other wildlife. The Gardiner River races over rocks and around tiny islands of trees. A goose rests in tall grass along its banks. A Brewer's Blackbird with dark feathers, iridescent purple, bright yellow eyes, pecks at the ground. We climb above the river and walk old wagon ruts through meadows filled with cactus and sagebrush that go on forever.
A black bear sow and her two cubs are tucked away in the trees near Wraith Falls. One of the cubs is cinnamon - not sure about the other. I can see the sow lying down, one rusty colored cub next to her. We drift past, slowly driving around bison in the road. Calves run circles around their mothers and playmates or lie stretched out in the grass. Down to Fishing Bridge, Round Prairie and Soda Butte. Mountain goats are dots of white on the rocky cliffs. It begins to rain, a slow, cold rain.

Author - Christine Baleshta
Photography - Tim Springer


Click for larger image