Day 2 June 1, 2014
_____________________________________
Sunday, June 1, 2014
Yellowstone Lake

It's 39 at 6:05 a.m. The sun is slowly coming up over the horizon, blue sky peeking through white clouds. An elk cow stands in the middle of the road, a shadow facing us. She hesitates, then steps slowly and carefully across. Past Fishing Bridge another elk stands in the road and hurries across, followed by another and another and yet another. The small herd has been drinking at the edge of Mary Bay. They cross the road quickly and scatter in the woods next to the road, their white tails standing out like flags in the trees. Patches of ice float on the lake, clumps of snow bobbing in the water. Geese peck in the marshes below slopes covered with spring grass.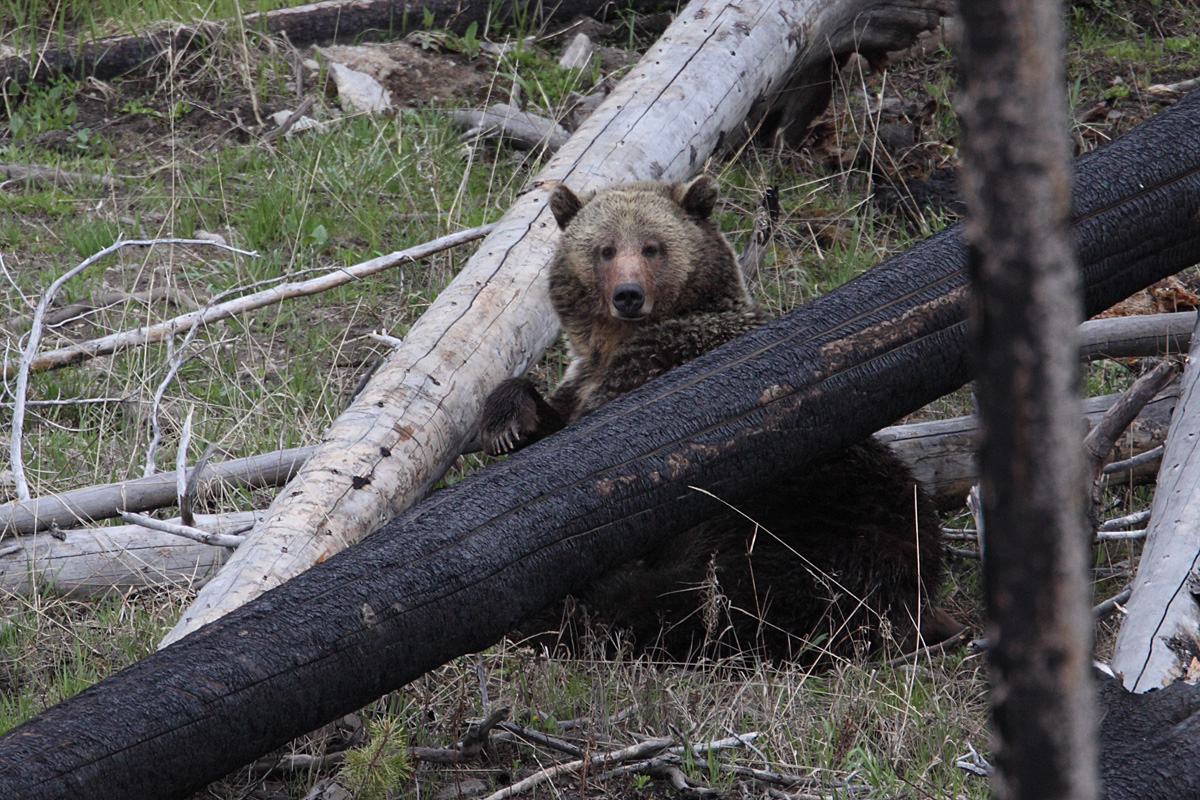 The sun shines steadily as we drive toward Hayden Valley. Bison graze or sleep in the meadows along the road near the Mud Pots. We pull over at Grizzly Overlook to scan the slopes and catch up with friends. There are lots of elk this spring in Hayden Valley grazing in the river bottom. The Canyon Pack has not been seen in the Valley in the past few days and they did not den, as far as anyone knows, but there has been lots of bear activity lately. As we look around a man pulls in and tells us a grizzly is headed our way, a sow that has been frequenting this area. Suddenly the silver brown grizzly is running straight toward us. She wants to cross, zigzagging back and forth across the road before loping into the snow banks. She is not a big bear, but looks healthy with her rich brown coat. Climbing the slope, she disappears into a gully on the other side.
Near Mary Mountain trailhead, another sow is grubbing with her two-year-old cubs. These bears are very light, almost blonde, with dark brown tipped ears. All three are almost the same size, but the mother is slightly larger and has a shade of brown in her coat while the cubs are more silver gray. The mother grazes and grubs, ignoring people who stop to watch, although the bears all know we are there. The cubs are more wary; one sits up and looks at us and then stands on his hind legs. There are so many bears in this area and it seems like everywhere we try to hike is closed due to bear activity.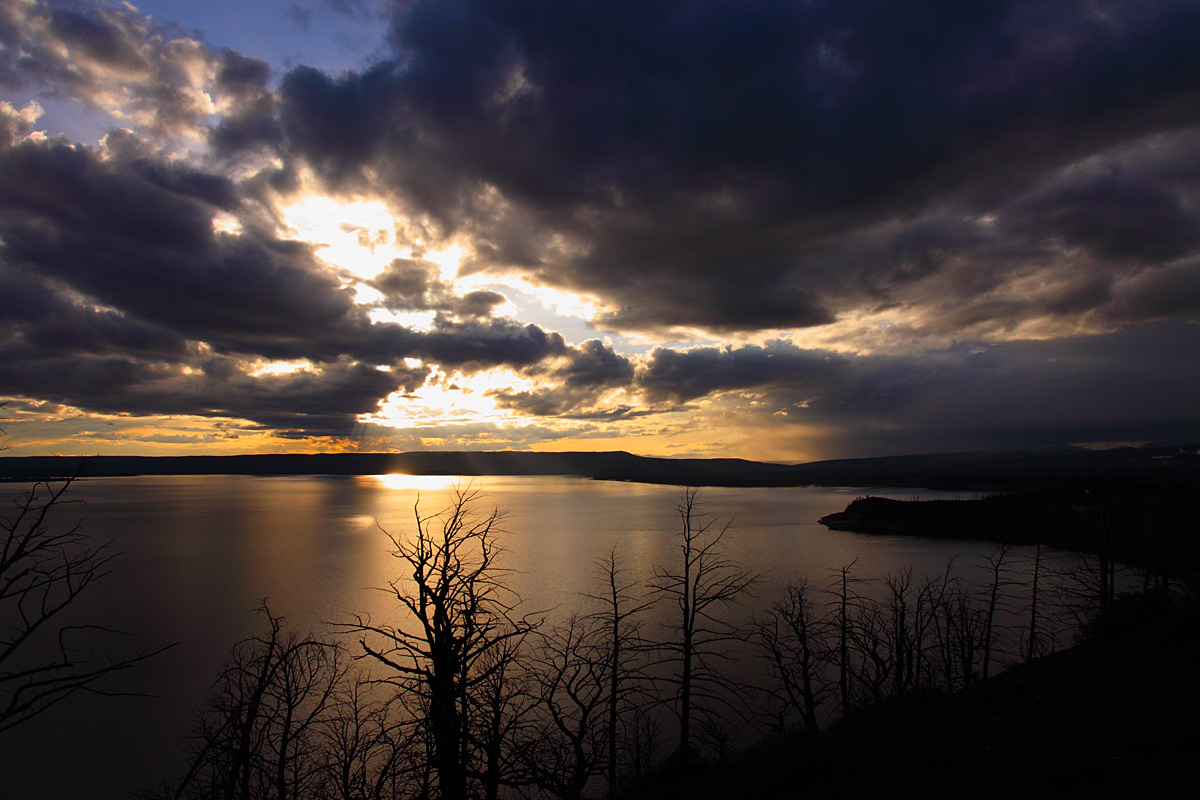 We drive back and forth, up to Canyon and back toward Yellowstone Lake. Drizzle turns to rain that turns to hail and we retreat to the cabin. It rains on and off all afternoon. Just as the sun comes out and the rain seems to have stopped, it begins again. We round one bend and the sun comes out; round another and it starts to rain.
After a break at the cabin we look for a small oasis to walk or watch wildlife. It rains all the way to Sedge Bay and we keep going. Cars are parked high above the road leading to an overlook of Yellowstone Lake where people stare down the steep slope covered with deadfall. A grizzly has killed an elk calf and is lying under a triangle of crossed logs. Hidden in the layers of logs, she is hard to distinguish. Occasionally she lifts her head and then buries herself in the timber. Looking content and sleepy she places a dark brown paw on one log and rests her head.
It rains again as we head back under a gray sky toward Canyon to whatever sunshine we can find and stop at LeHardy Rapids to look for harlequin ducks. Here the Yellowstone River runs fast and high, crashing over rocks. A few merganizers roost in the tall grass along the river, but there are no harlequin ducks in sight. Soon trout will be spawning and making their way upstream.

The weather clears tonight around 7:30 p.m., long enough for us to check on the Sedge Bay bear. The bear has not moved, its head resting on the same log while a cow elk stands in the deadfall farther east, watching from a distance. At sunset Yellowstone Lake is peaceful, gently rippling against the shore. Much cooler now, it feels fresh and crisp after the rain. Inside the hotel a pianist plays while guests sit at grand picture windows looking out to the Lake. It is still light as we walk back to the cabin under a slip of a crescent moon.

Author - Christine Baleshta
Photography - Tim Springer


Click for larger image