Day 2 September 16, 2014
_____________________________________
Tuesday, September 16, 2014
Patricia Lake, Jasper, CAN

We took a bit of a beating this morning at Jasper Stables, but a one-hour ride would have been too short. We would have left the barn, walked a circle around the woods and returned to the stable. Our ride lasted two hours almost to the minute and traveled past beaver ponds, through forest high above Pyramid Valley.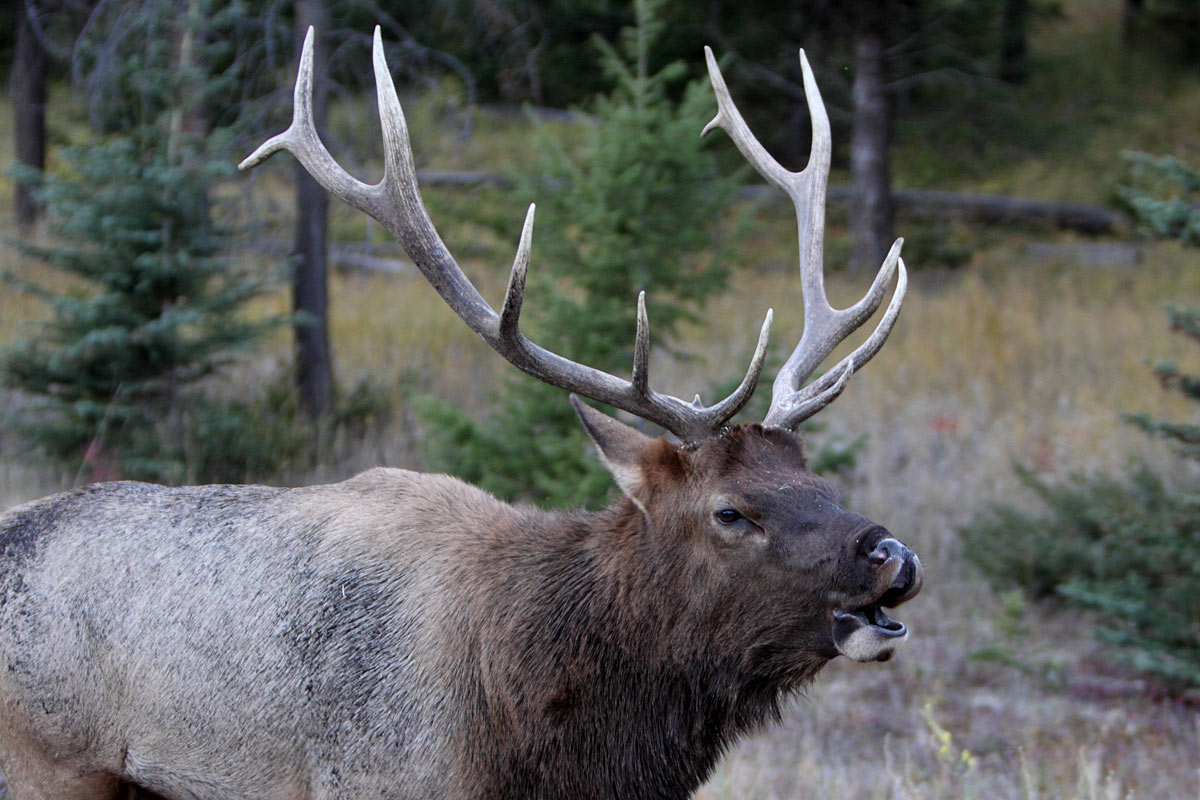 Our horses, Reno, a gray roan, and Spirit, were not the "plodders" we expected. They had personality which means they preferred to eat grass and grab whatever vegetation was available instead of sticking to the trail. Tim did very well with willful Reno, pulling him up when he made sharp u-turns into the brush. After the first 30 minutes both horses calmed down quite a bit, though they would break into a trot to catch up with the other horses. There was a third rider with us, a man from England who was talkative and good with his horse. Our guide, Al, was not only an experienced horseman (including roper), but a certified diver, and skied (of course). Al was a fountain of information about the area and added in a few tidbits of his own - like Canada sending elk to Scotland to repopulate the elk there. I am a little concerned about how my derriere will feel tomorrow and I am surprised at how nervous I was considering I own a quarter horse and ride regularly. I hated going downhill, Spirit sometimes crashing down the steep path.
We returned to the cabin for ibuprofen, muffins and to plan the rest of our day. Not realizing it was more than sixty minutes and a time zone away, we headed to Mt. Robson Provincial Park. We had no other plans, so we entered British Columbia, waived through the checkpoint quickly and easily by a French attendant. Suddenly we are one hour behind.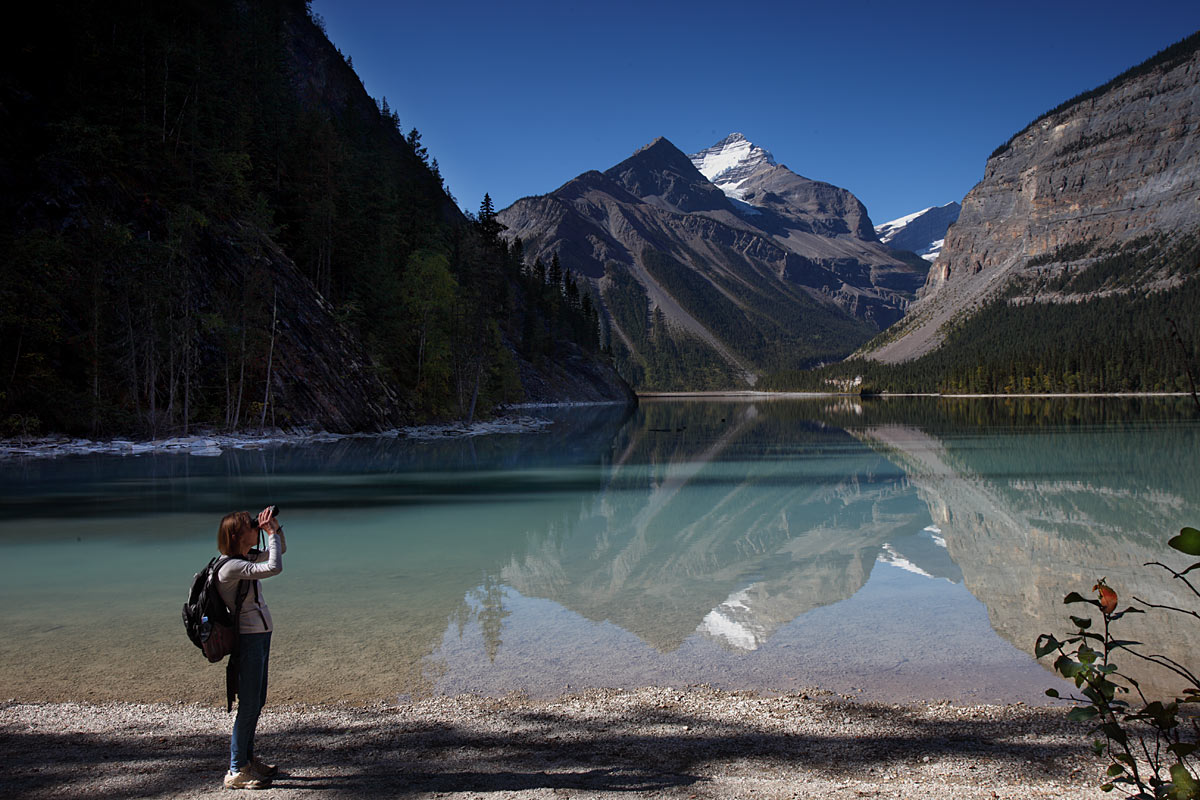 The forest seems to become denser in British Columbia and the colors more vibrant. Mountainsides of red, burned conifers, golden aspens and cottonwoods. Rivers and lakes turquoise blue. We hiked to Kinney Lake, along with a small crowd of other hikers, backpackers and cyclists. The trail, just over 3 kilometers, follows the Frazer River, running over rocks and pools and winding through red cedar groves to an open meadow. Mt. Robson, the highest peak in the Canadian Rockies looks down on us.
Kinney Lake stretches out before us after a bridge across the river. The water is smooth, like a mirror. Mt. Robson reflects in the water, quiet, peaceful. I scan the rocky slopes for mountain goats - not even one on its ledges. A group of three backpackers pass, cooking utensils and tools tied to their packs, clanking as they walk. They rest on logs on the beach and then one of the young men strips down and plunges into the cold water. I laugh.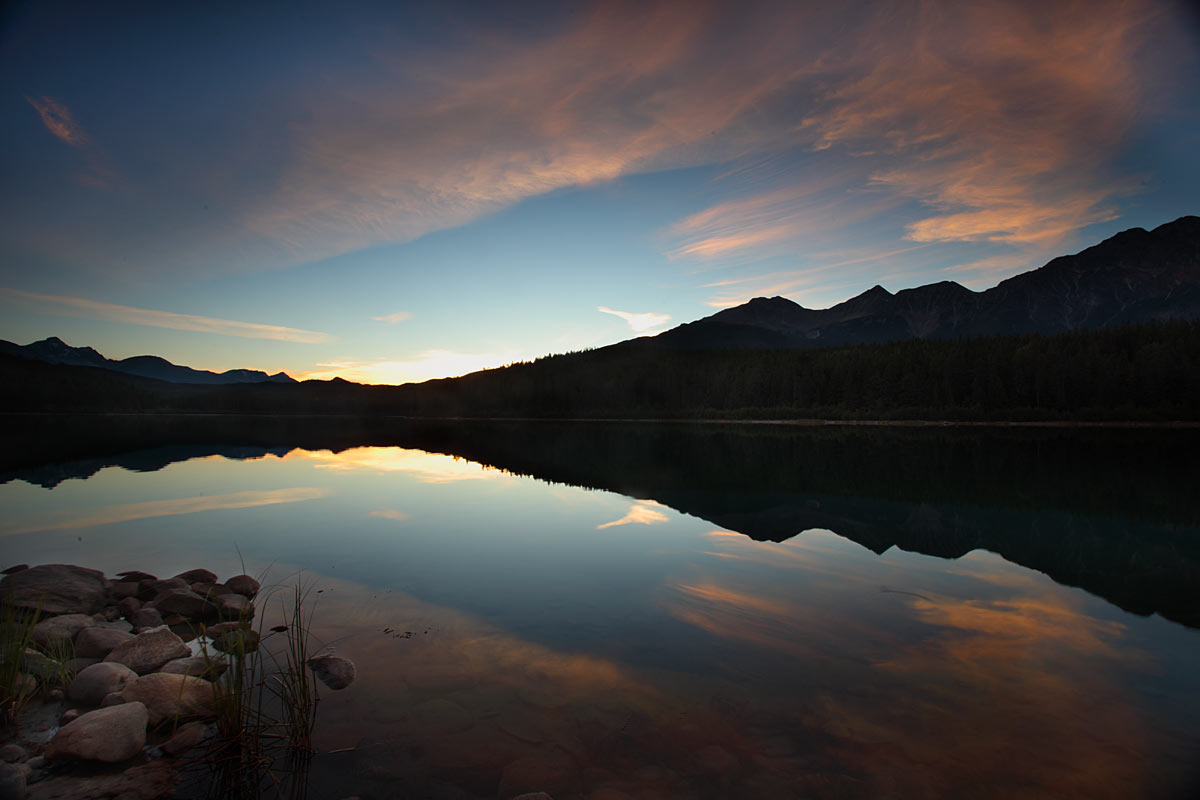 On the way back to the cabin we cruise Icefield Parkway looking for wildlife. A very large bull elk herds his harem of healthy looking cows on the north side of Jasper. Two other bulls in the area watch, but keep their distance. One walks right by the passenger side of the car, whistling.

Author - Christine Baleshta
Photography - Tim Springer


Click for larger image