Day 4 September 18, 2014
_____________________________________
Thursday, September 18, 2014
Patricia Lake, Jasper, CAN

We stand on Pyramid Island gazing at the mountains across the lake. The sun has just set and evening shadows descend from the pine trees to the water. The lake here moves - it is not still like Patricia Lake. Waves gently roll over rocks and logs fallen in the water. Other visitors have left the tiny island and we are alone now to watch night fall on this little corner of the Rockies. We have used the last of the evening light to scan the shorelines of Patricia Lake and Pyramid Lake, searching for wolves and elk. We know the wolves are there and very rarely seen, but hope that just this once we will be the lucky ones.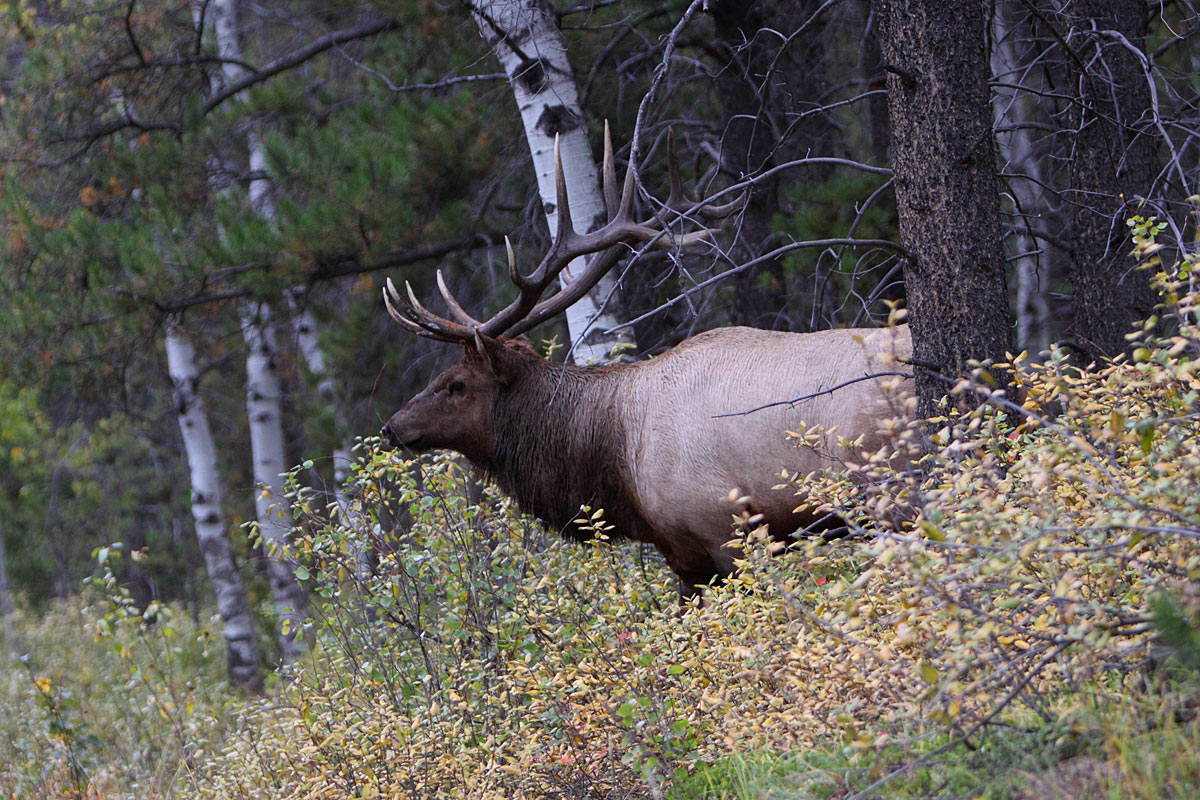 It rained on and off all day, mostly a soft, steady drizzle. It made the morning a little dreary and frustrating - driving with the windshield wipers flipping back and forth, trying to see something. We drove south on the Icefield Parkway looking for grizzlies and mountain goats, going as far as Sumwapti Falls and stopping at Goat Lookout. Goat Lookout, across from Mt. Kirkesan was fogged in, though we could still see the mineral slopes and river below. We drove up to Marmot Basin and back up the Icefield Parkway past the bridge to Maligne Canyon Road. Three and one-half hours of driving with almost no luck. When we left the cabin this morning, elk grazed between the cabins and the resident herd along the river was out, guarded by their bull.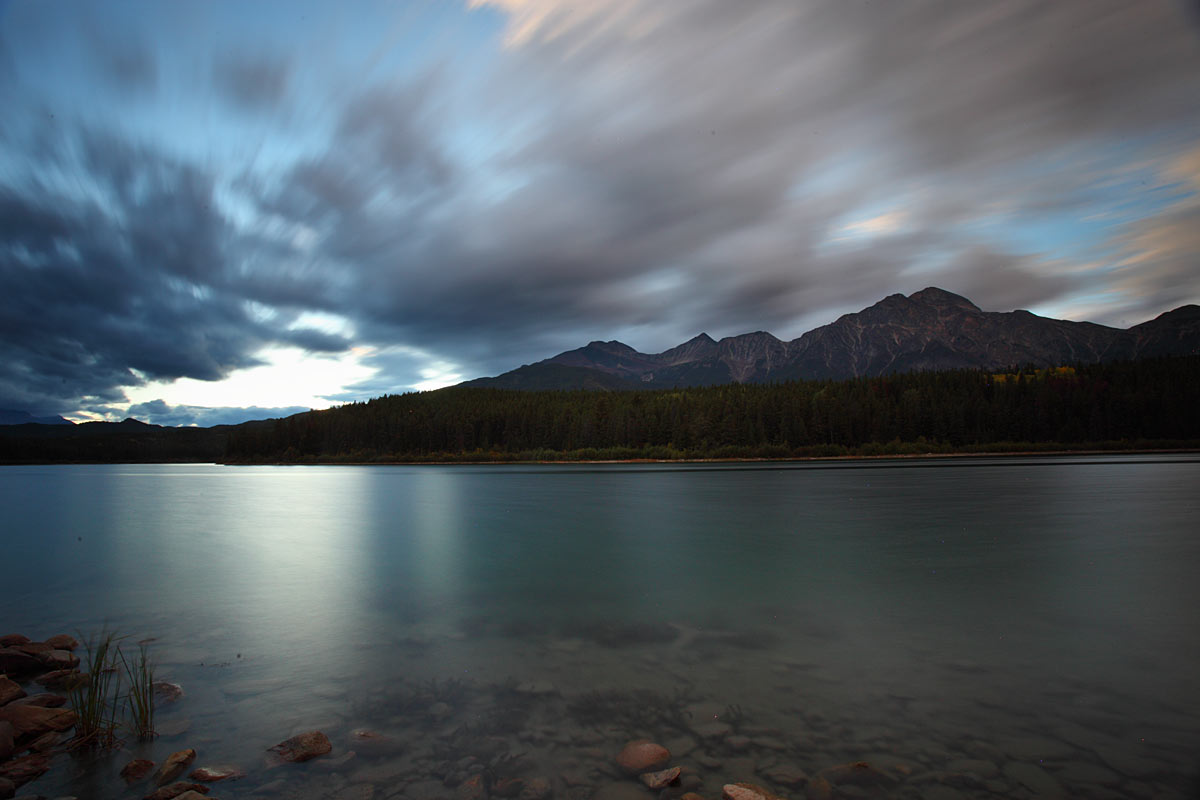 What to do on a day like this? In truth we have been very fortunate that the weather has been so good. What's one rainy day? We retreated to the cabin to read and mope and gather resolve to go out in the rain anyway.
After the rain the scent of pine permeates the air. We hike one of the trails off Pyramid Lake through the forest, and past a small lake. The aspens are especially pretty this time of year, finally turning golden yellow. We seem to miss the fall change of color in Yellowstone; arriving a little late there. Here leaves are just beginning to change. I wish we could have seen a larch tree, a deciduous conifer that changes color in the fall from green to yellow. There seems to be a lot of fireweed here. The meadows along Pyramid Lake across from the island are a rosy color in the evening sunset. Along the highways it mixes with green and yellow grass forming a beautiful palette of color.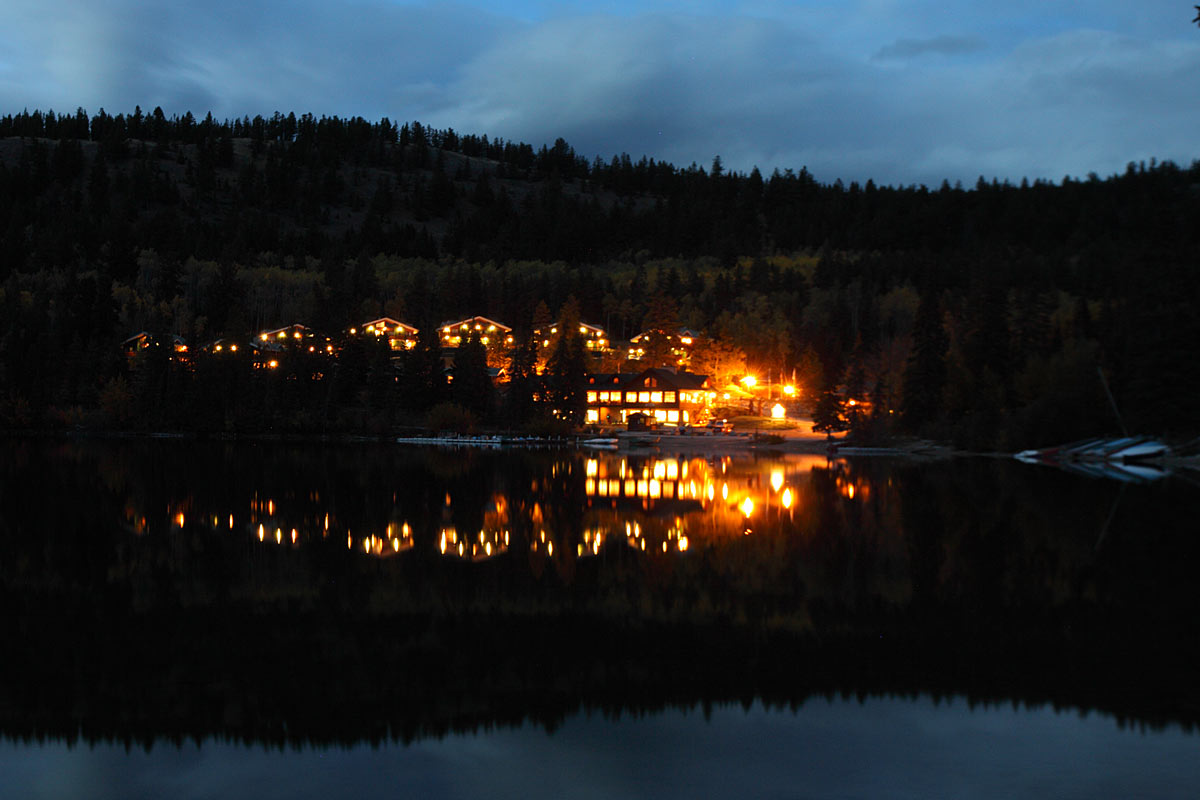 We did have one interesting animal encounter today. As we were driving back from Jasper along Pyramid Lake Road at almost 6 p.m., a huge bull elk bugled from the woods. An RV stopped, warning us the elk was nearby and then we saw him in the trees, rubbing his antlers against the tree trunks. A fine looking bull and not an animal to irritate. He stared at us through the trees and stepped toward the vehicle. For a moment I thought he might charge the car, but then he stepped carefully through the trees onto the road, stretching his long legs across the pavement. Standing in the middle of the road, glancing toward us, we could fully appreciate his magnificence. Perhaps this is the bull whose harem lives at the cabins. As we drove off, I watched a branch break when he rubbed his antlers against it and heard the branch crunch.

Author - Christine Baleshta
Photography - Tim Springer


Click for larger image